Massage/Bodywork Services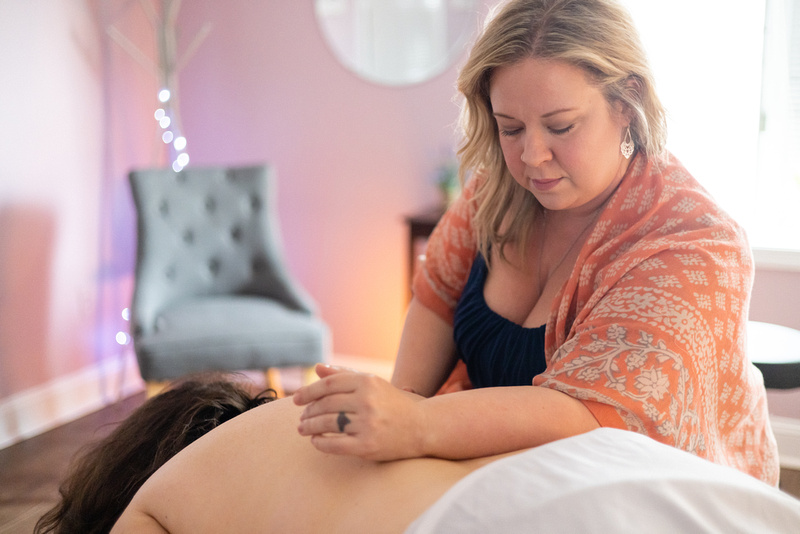 Therapeutic/Mixed Modality 60/75/90 minutes
Our most commonly booked session. Techniques/modalities used and depth of pressure are custom tailored to each individual client, truly a customized experience. Hot towels for heat therapy, aromatherapy, and topical enhancements (either arnica, biofreeze or CBD oil) may all be included in your session as needed or requested (this applies to all session types). Please let us know if you would like assistance selecting a particular therapist based on her unique skill set/your particular needs.
Prenatal Massage 60/75 minutes
For the mama to be in 2nd/3rd trimester (1st trimester, please schedule Reiki). We will work together to create a bodywork session that meets your specific needs, while using comfortable pillows and bolsters to safely support you and your growing belly. Please have the ok from your midwife or doctor before scheduling. If you're past 39 weeks and would like to encourage labor, please schedule with Sarah- she can include specific aromatherapy and pressure point stimulation that can be effective in "nudging" the body towards labor.
Myofascial Release 60/75 minutes
Myofascial release is form of bodywork that focuses on fascia - the connective tissue that wraps around and in between the muscles and other structures of the body. Like a pair of pantyhose that gets twisted, when fascia becomes restricted in one place in the body it can create patterns of tension and restriction throughout the body. Myofascial release works with sustained pressure into these places of restriction to reduce pain/discomfort and restore mobility and ease. This bodywork modality is performed without oils or creams, and clients are asked to please wear shorts and a tank top or sports bra, so that stretching and intermittent reassessment can most easily be performed. This session type may be scheduled as a standalone session with Kendra, or you may request that myofascial techniques be incorporated into your session with Kendra, Dana or Sarah.
IASTM (Fascial Mobilization) 60/75/90 minutes ($10 upgrade)
This highly therapeutic session includes the techniques of a customized massage combined with spot treating specific areas with steel fascial mobilization tools (similar to Gua Sha). This technique is often used by physical therapists for faster recovery from injury and a variety of musculoskeletal conditions. You can learn more about this specialized technique here: IASTM Info . Cupping may also be requested to be incorporated for 75/90 minute sessions.
Please note that IASTM may cause some bruising and will likely cause petechiae - this is it's purpose! We are stimulating deep blood flow and creating a controlled inflammation response to assist the body in healing. This modality is not for those who are pregnant or who have diabetes, osteoporosis, cancer, kidney dysfunction, blood disorders, or those who are on anticoagulants.
Cupping Massage 60/75/90 minutes
Cupping is an ancient healing therapy that creates vacuum suction to lift skin and underlying soft tissues into "cups" . This creates therapeutic decompression- think of it as a reverse deep tissue massage! This modality is highly effective at releasing myofascial restrictions and soft tissue adhesions (including around old incision/surgical sites), treating tendinitis, promoting healthy blood flow (by pulling stagnant fluid from as much as 4 inches deep in the body), reducing inflammation, and encouraging whole body well being. Is is a wonderful modality for athletes, or for anyone with acute or chronic pain.
In this session, your therapist will use a mixture of stationary and sliding cups on targeted areas for 20-40 minutes, combining this treatment with therapeutic massage for a well rounded bodywork session (60 minute session may not be full body). Please be aware that you may have "cupping marks" for a few days- they may look like bruises, but they are not painful as there is no blunt force or trauma, rather it is simply stagnant blood that has been pulled to the surface (this is a good thing!) Certain blood/circulatory and skin disorders are a contraindication for cupping- please reach out if you are unsure if it's right for you.
Thai Massage 60/75/90 minutes
Often referred to as "lazy man's yoga", Thai massage is a bodywork modality that revolves around compression (along specific energy lines), rocking and stretching for increased mobility, deep release and relaxation. For this traditional Thai session, you will remain fully clothed (please wear comfortable clothing similar to what you'd wear to a yoga class). Your bodywork is performed on a soft cushion on the floor, so that your practitioner is easily able to manipulate various parts of your body into yoga-like positions and stretches. Benefits include increased flexibility and range of motion, reduced discomfort in the body from ailments such as back pain and headaches, and a feeling of deep relaxation.
Contraindications specific to this session type include anyone who is unable to get down and up from the floor and those who are hypermobile, pregnant, or with significant spinal issues.
Table Thai Fusion Massage 60/75/90 minutes
Thai bodywork techniques (compression, rocking and passive stretching) are combined with traditional massage to create length and flexibility in muscles as we work on them. Please note that this is a fusion session, where you will be undressed and draped as you normally would for massage. If you would like a session with ONLY table Thai techniques (where you remain fully clothed), please schedule either a Thai Massage or a trauma-informed custom session (found in the energy work and trauma-informed tab). Thank you!
Hot Stone Massage 60/75 minutes ($10 upgrade)
This modality is a therapeutic massage incorporating hot stone treatment: water-heated basalt stones that are used as massage tools to deliver deeply penetrating heat throughout the body. Offered seasonally (cooler months only). Not for those who are pregnant or who have cancer, diabetes, neuropathy, heart disease/uncontrolled blood pressure, or certain skin conditions.
Ayurvedic Massage 75/90 minutes
Ayurveda (the "sister science of yoga") is one of the world's oldest holistic healing systems, based on the elements and rhythms of nature. It recognizes that "health" is a balance of our body, mind and spirit.
This session, based on Ayurvedic principles and practices, includes abhyanga (warm oil massage), energy work to invite healthy flow of prana (life energy), and traditional Indian head and face massage techniques (champi). Specific essential oils may be included to further address imbalances. You will leave feeling relaxed, rejuvenated and nourished inside and out. Please be aware that for this session, you will get oily! This is a good thing, as pure oil is highly nourishing to our skin and nervous system, and you will be encouraged to not shower right away.
Some benefits of Ayurvedic massage: increased lymphatic circulation, nourished parasympathetic nervous system, balanced digestion, decreased stress and stress-related discomforts such as tension headaches and trigger points, release of emotional blockages, boosted immune system function, improved skin tone/increased collagen production. Come see for yourself how beneficial it can be to mind, body and spirit.
Facial Massage 60 minutes (55 min service time)
In this pampering session, we begin with a hot towel to open your pores followed by application of our nourishing facial oil with ingredients* that hydrate, reduce inflammation, and increase collagen production. You then sink into bliss with an extended facial massage designed to encourage lymphatic circulation, release any sinus pressure/congestion, relieve symptoms of TMJ conditions/jaw discomfort, and facilitate deep nervous system nourishment/relaxation. Your session continues with detailed massage of your scalp, neck, shoulders, decolletage, arms and hands, and then ends with facial gua sha (further encouraging the appearance of toned, smooth, radiant skin) and a rosewater application. Leave feeling refreshed and rejuvenated! Please arrive to this session with a clean face (eye makeup is fine), as anything on your skin will be massaged into your skin. Not appropriate if you have certain skin conditions or are experiencing a significant acne outbreak- please reach out with questions.
*Ingredients in our all-natural, locally sourced facial oil are simple: Apricot oil (to help your skin look radiant while keeping it soft and moisturized), jojoba oil (hydrating, offers antioxidant protection, anti-inflammatory), sunflower oil (can help alleviate redness as well as minimize the look of fine lines and wrinkles), rosehip oil (can increase collagen production and help fight acne due to its anti-inflammatory and anti-microbial properties), and a touch of rose essential oil for subtle aromatherapy.
Guided Awareness Relaxation Massage 75/90 minutes
This deeply restorative and nurturing session combines a full body therapeutic massage with the addition of guided awareness relaxation techniques. Your therapist will begin your session with 5-10 minutes of a guided awareness tailored to your energy and stress levels, flow effortlessly into your full body massage, and then end with another 5-10 minutes of guided awareness to bring you back into a nourished, grounded headspace. This may be scheduled as a standalone session, or if you have a therapeutic massage package, please feel free to request that this be added into your 75 or 90 minute therapeutic session with Kendra.
Pricing
Pricing is for all session types with the exception of IASTM and hot stone ($10 upgrade). Ask about our cash/Venmo discount!
60 minute:
Single session $120; Series of 3 $330 ($110 each); Series of 6 $630 ($105 each)
75 minute:
Single session $140; Series of 3 $390 ($130 each); Series of 6 $750 ($125 each)
90 minute (not bookable online):
Single session $165; Series of 3 $465 ($155 each); Series of 6 $900 ($150 each)
Re: Series/Packages: Series of 12 available for clients who receive sessions at least monthly (pricing is $1200 for (12) 60 minute ($100 each); $1,440 for (12) 75 minute ($120 each). The series of 3 is intended to be used in 6 months, and series of 6 or 12 in 12 months, but you will never lose a session you've purchased- please see our "policies" page for our policy re: expired sessions. Any massage may be upgraded (ie, a 60-minute upgraded to a 75-min for $20, or hot stone added for $15). Sessions in a package may not be "shared" with someone else- they are on your unique account. Thank you!