Welcome to our space! We are located in beautiful downtown Narberth, at
109 Forrest Ave, 2nd floor, Narberth PA 19072
and can be reached at info@exhalemainline.com or 610-271-8170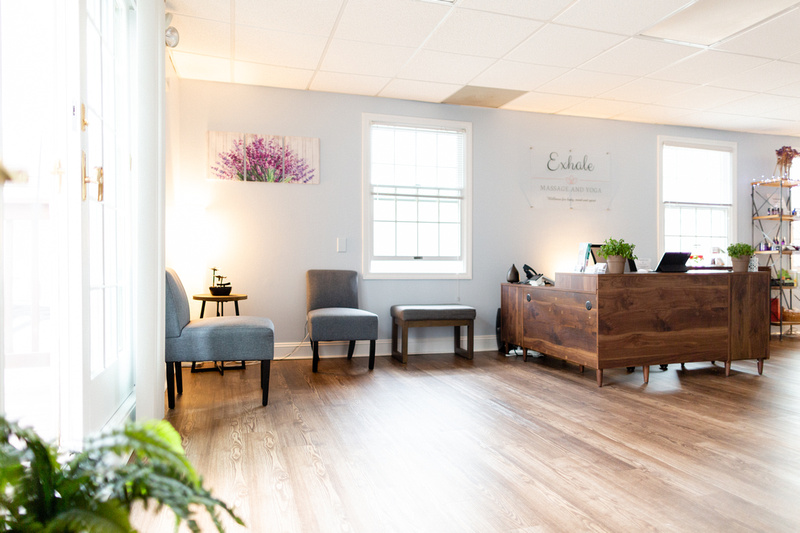 Hours for appointments:
Monday 9:30-7:00
Tuesday 9:30-7:00
Wednesday 9:30-5:30
Thursday 9:30-7:00
Friday 9:30-4:00
Saturday 9:30-4:00
Sunday Closed
These hours are by appointment only. If you need to stop in outside of a scheduled appointment, please give us a call or stop by during our
front desk hours:
Tuesday 9:00-12:00
Wednesday 9:00-12:00, 2:00-5:00
Thursday 9:00-12:00
Friday 10:00-2:00
Saturday 9:30-11:00
Parking
We have two marked "reserved for Exhale" compact parking spots in the single file lot out front. One is directly in front of 109 Forrest and the second a few spots down in front of 107. My car is parked in each of our spots in the photos below.
If both spots are taken, please do not park at the meters on the lower half of the block, as these are 1 hour meters. There are a plethora of 5 hour meters on the top half of the block, and the second block of Forrest is free parking (see pic below). Meters paid with quarters or the ParkMobile app.
Step in the first door on the left side of the porch, and come on up. Please note that there is a small split staircase leading up to our office. Thank you, and we look forward to your visit!