Yoga at Exhale
In the west, yoga *posture* practice abounds. It's become quite popular, so wonderful that folks are benefiting from the physical movements of yoga! However, because of the way our culture is oriented, the subtler, richer aspects of this ancient practice are often left behind. This is where we at Exhale step in- seeking to offer you no gimmicks, no latest trend/fad, but a step back to the foundational practices taught to us by Pantanjali and other sages thousands of years ago.
Our practices are rooted in these foundations. Yoga Sutra 1.2 tell us that "yoga is the calming of the fluctuations of the mind". This is our goal! Everything else we do, from our conscious breathwork to our postures to our meditation, is designed in support of that goal.
If you're just starting out, you're welcome to visit the "online library" page, where you will find a 50 minute practice designed as an introduction to yoga.
Please browse below to find the practice that works for you, and if you have questions about the teachings/practice of yoga, please visit the "Education-Yoga & Ayurveda" tab.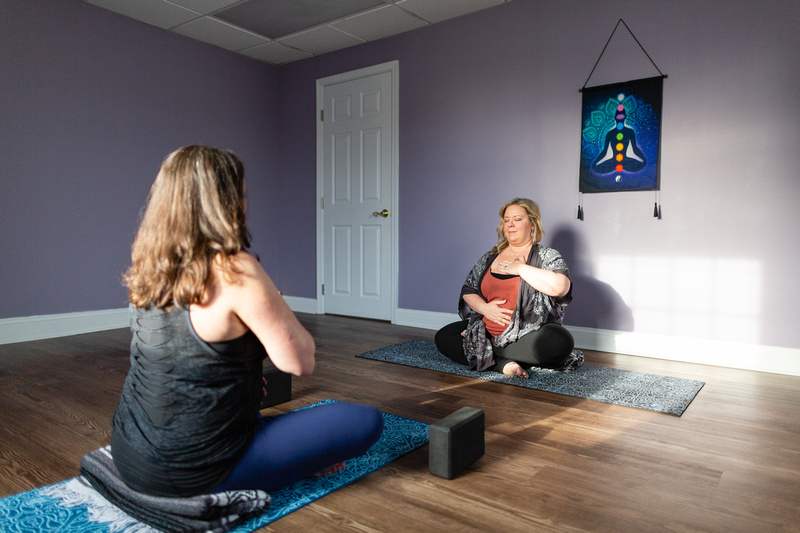 Small Group Yoga- In Person and Virtual
All of our practices are designed to be inclusive to all abilities, shapes and sizes. In person classes are limited to 4 students on Wednesday and 7 on Tuesday and Friday (please bring a mat if possible (we have some to borrow), and park on the street). Virtual classes are via Zoom, and you may sign up whether you'd like to join live or to receive the recording after (virtual, please try to have a a quiet and comfortable space and any props you may want).
All classes may be scheduled by reaching out directly or online via the Mindbody app or here: Yoga Class Scheduling
Pricing is $20/class or $170 for 10 classes. In-person students receive personal attention/guidance, while virtual students get the perk of having the class recording to watch again. If you would like to sign up for a class AFTER it's aired, please reach out within 5 days of the class, as recordings cannot be shared after this window.
Schedule:
Tuesday 6:15-7:30 pm (In Person or Virtual) : Yin Yoga with Kendra- in this slow paced, meditative practice, asanas (postures) are held for a longer period of time to target the deepest tissues of the body, our connective tissues (such as fascia and ligaments), giving you space to turn inward and tune into both the mind and the sensations of your body. This style of asana practice often invites profound unwinding and a feeling of deep relaxation.
Wednesday 9:30-10:45 am (In Person or Virtual): Classical yoga with Sarah: We work to calm the mind (Yoga Sutra 1.2), cultivate comfort and stability in the body (YS 2.46), and incorporate the 8 limbs in to a well rounded practice influenced by both classical and tantric schools of yoga. Nervous system nourishment, conscious breathwork, postures, guided relaxation and mediation are all components of this practice.
Friday 4:15-5:15 pm (In Person or Virtual): Classical yoga with Sarah
Private Yoga
These may be scheduled online just like massage appointments. You may "share" your private session with up to 3 other people for no additional charge, and each session is customized to meet your unique needs, whether you are a beginner wanting to get familiar with the practice before joining group classes, a seasoned yogi who would like to deepen alignment understanding, someone who is recovering from an injury who needs assistance in modifying your practice to meet your current needs, seeking private instruction in breathwork or relaxation/meditation practices for mental health wellness, or wanting one on one instruction for any other reason :-)
Rates for Private Yoga
60 minute: Single session $110; Series of 3 $300 ($100 each)
75 minute: Single session $130; Series of 3 $360 ($120 each)