Online Yoga Library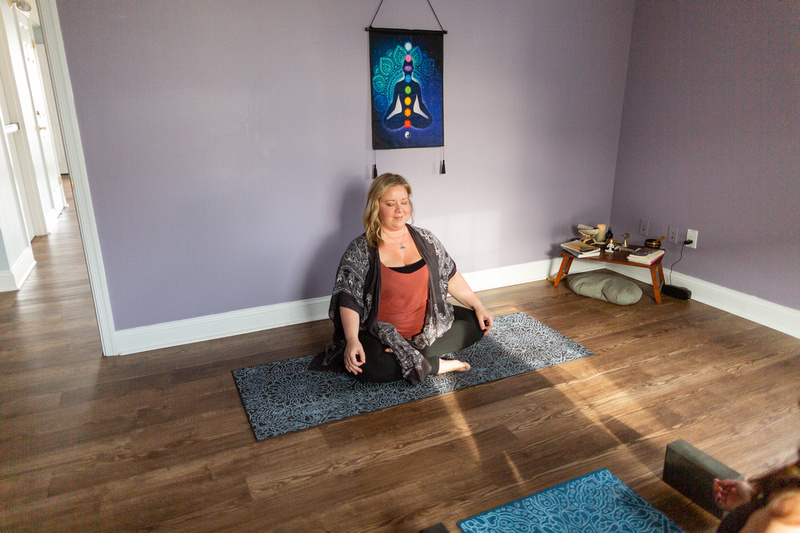 Welcome to my online library- here you will find a combination of Zoom classes and pre-recorded practices of various lengths. To receive new class recordings, please sign up for individual virtual classes (Wednesday 9:30 and Friday 4:00) via Mindbody app or on the yoga schedule page - you may sign up even if you are not able to view live, and will be sent the recording.
Pay for these classes is on the honor system. Please send via Venmo @Exhale-Massage-And-Yoga :
$15 for full length classes (or $50 for all 4 practices in the foundational series)
$10 for 45 min-or-less classes
Guided relaxations/meditations and the beginner's class are free of charge
Thank you for sharing your practice with me
.
If you're new to Yoga, I invite you to begin with the following practice: 50 minute beginner's yoga practice. This is a introduction to the practice and a great place to begin, especially if you aren't quite yet comfortable with the idea of coming to a class. We discuss what yoga is, some essential components, move through some common asanas (yoga postures) with variations, and end with a guided body scan relaxation. If you'd like to learn more about the history, philosophy, and foundational elements of yoga, follow up with the series below.
Foundational Series-each of these begins with roughly 15 minutes of discussion, followed by an hourlong practice. We discuss foundational concepts of yoga, such as "what is yoga?" (and what it isn't), the history/source wisdom of yoga, and an overview of the 8 limbs of yoga with practice of each. Whether you're a beginner, have mostly experienced yoga as asana-only, or would simply benefit from a refresher, this is a wonderful series!
Foundational Series Practice 1/4
Foundational Series Practice 2/4 (the joys of technology! In this recording, we lost power/Wi-Fi for about 3 minutes, half hour in. When you arrive there, you can simply sit/work with your breath for that time, or fast forward to the 34:00 marker)
Foundational Series Practice 3/4
Foundational Series Practice 4/4
Full (60-75 min) practices
70 minute gentle "comfort and stability" Yoga 2/3/23
75 minute All Levels Yoga 6/12/22
75 minute Yoga 2/21/22 (Lots of modifications for those with mobility issues)
75 minute gentle-ish Yoga 1/14/22
70 minute all levels Yoga 6/18/21
60 minute all levels Yoga 4/25/21
60 minute Yoga- extra love for neck and shoulders 4/16/21
60 min Gentle Yoga with extended Savasana 3/7/21
60 minute inclusive vinyasa Yoga 2/17/21
45 minutes or less Yoga
35 minute Chair Yoga practice 2/22/22
30 minute Yoga- focus on spine and surrounding muscles 3/24/21
45 minute heart, hips and pelvis 2/12/21
15 minute home Yoga practice 11/2/20 - This is a template for how to start creating your own home practice
30 minute gentle Yoga 3/19/20
Guided Relaxation/Meditation
12 minute guided Savasana and loving kindness meditation 6/12/22
17 minute meditation- breath and body scan, sankalpa and chakras 1/2/22
14 minute guided Savasana 12/3/21
20 minute meditation for expanded awareness and connection 2/24/21
5 minute heart centered meditation 2/12/21
Footnote: For many years (18!), I was under the overwhelmingly common misconception among westerners, which is that the word "namaste" is a traditional way to end a yoga class and convey the sentiment "the divine in me honors the divine in you". This is what I was taught even through my initial teacher training, and what you see echoed by (mostly white) teachers. It wasn't until my 2nd training segment at the Himalayan Institute that I discovered that.....the meaning and context we all think of is basically made up!
"Namaste" is a greeting, a way to say hello (often to convey respect, such as when greeting an elder), that's it! And while the ancient roots of the word do translate to mean "I bow to you", westerners have taken this and run with it, turning it into something it's not. In addition to the fact that it would be more contextually accurate, if anything, to say at the beginning of a class and not the end, it's often the only sanskrit word that westerners know, and it's been appropriated to the max (cue the "Namastay in bed" t shirts). And so for all these reasons, you may hear me end practice with something more appropriate, such as "om", "om shanti shanti shanti", or simply "thank you". Always seeking to appreciate, not appropriate ♥️
To learn more: https://www.npr.org/sections/codeswitch/2020/01/17/406246770/how-namaste-flew-away-from-us